Sanford Auto Dealers Exchange says Customer Service is what they do best. With 2000+ consign­ments every week from over 50 new car dealers, it's a must attend sale. Weekly sales are every Tuesday starting at 2:00 p.m. Call 407-328- 7300 to register.
McNutt Auto Logistics is your "go-to" auto transport provider. Our Price Quote Generator is fast and simple, it's available 24/7, and it's absolutely free. No login or password required. Better than 98% of our moves are completely hassle-free and deliv­ered on time. It's the 2% that become challenges to us that, in the end, you will be pleased that you placed your trust in the professionals at McNutt Auto Logistics! Call (800) 755-2324, e-mail Sales@ McNuttTransport.com, or visit our web site at www.McNuttLogistics.com.
"Attend the auction which always offers 8 action-packed lanes in their state-of-the-art facilities. Carolina Auto Auction always has what you need! You can view, pre-bid and bid live online at www.carolinaautoauction.com. Call 864- 231-7000 for more information."
Indiana Auto Auction offers 8 action packed lanes each week with over 600+ vehicles. Four lanes available online and as an added bonus weekly promotional sales. With their on site floor planning, what more could you want in an Auc­tion! Contact the sales team at 260-489-2776 for more details.
Dealer licensing in 21 days. Need help Call Ken at 305-758-9321. With locations all throughout Florida and offering services such as Finance License, Corporate Updates, FEIN and Sales Tax Numbers, Bonds and Insurance. Go With The Experts! www.DCSMiami. com
More to Floor. More sources and resources! More retail, wholesale, sal­vage, and specialty floor planning with NextGear Capital. www.nextgearcap­ital.com
Calling all dealers, auctions, and dealer suppliers! If you are not a member of the Florida Independent Automobile Dealers Association you are missing out. With a two for one member­ship package, you have a voice not only in Florida, but in Washington as well. To join or more information log onto www.fiada.com
Rawls Auto Auction says "Thanks to everyone who helped them celebrate 75 years!" Come and experi­ence the difference. Check out this month's ad on page nine in the magazine for this month's sale dates and times, or log onto www. rawlsautoauction.com.
The Boat Nanny wants to service your Marina kept boat. Serving all of Southwest Florida. Call 305-281-5620 to set up your monthly maintenance plan.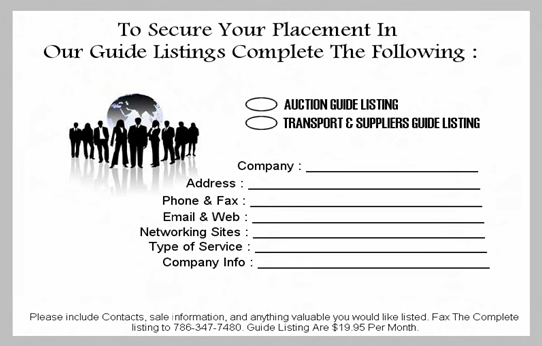 ---
A Dealer's Journal is the only automotive and powersports publication that offers you four for one advertising. Print, Online, and Direct E- mail Marketing, along with placement on all of our social media pages for one low monthly price. Contact the sales team at 877-331-4350 or at sales@adealersjournal. biz to secure your place to­day! We are the Complete Dealers, Auction and Powersports Magazine.
Attention Dealers, Auctions, Transporters, and Suppliers; Do you have something going on that you would like to share? An upcoming event or special sale? How about a new product release? E-mail us at subscriptions@ adealersjournal.biz and tell us about your upcom­ing event, sale, or special. We will run it in the next issue of A Dealer's Jour­nal, Your publication for the industry!